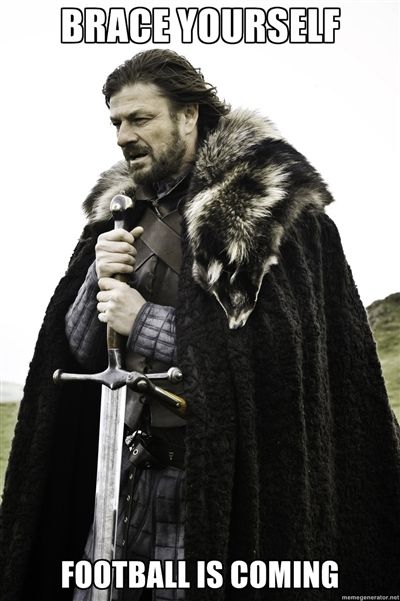 So here we are, my friends. Both at the end of this series of college football previews and at the end of the worst sports drought all year: the football offseason. Tonight, South Carolina plays at Vanderbilt. Tonight, Mike Leach makes his return against a bunch of mormons. Tonight, my friends, there is football.
So here you go, Red and mine's predictions for the BCS bowl games:
Orange Bowl:
Iggins!: Clemson vs. USF
Code Red: Virginia Tech vs. Shitty Big East Champion
-Thank you for the specifics, Red. The only difference here is in our predicted ACC Champs.
Fiesta Bowl:
Iggins!: West Virginia vs. Wisconsin
Code Red: Oklahoma vs. Nebraska
-So we have the B1G #2 in this game vs... well, Red picked West Virginia to win the Big 12 but then put them in a bowl game as an at large. WAFFLER.
Sugar:
Iggins!: Georgia vs. Oklahoma
Code Red: LSU vs. West Virginia
-Once again, I contend Red is a flip-flopper. SEC Championship Game loser vs. Big 12 #2 here.
Rose Bowl:
Iggins!: Michigan State vs. USC
Code Red: Wisconsin vs. Oregon
-B1G Champ vs. Pac 12 #2 in the Rose it looks like. All of these pairings seem
too likely
. Hopefully Louisiana Tech goes 12-0 and screws this thing up.
National Title Game:
Iggins!: LSU vs. Oregon
Code Red: Georgia vs. USC
-And we both agree that the SEC champ will face the Pac 12 champ in the title game.
Well, that's it boys and girls. Football starts tonight; our national crisis has ended. I'm gonna go cook some bratwurst and yell at my TV until it starts.