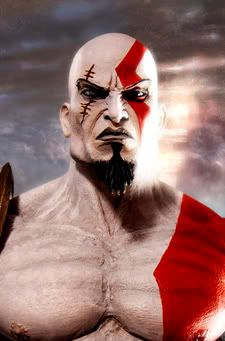 Hello again, pitiful mortal fools. If you are lucky enough to be reading this it means my blades have yet to TEAR ASUNDER your skull... yet. Once again I return to speak on behalf of the sport closest to my heart, but still A MIGHTY DISTANCE from it, the UFC.
UFC 78:
If you are blind, weak in body and mind, or a little BITCH then you had no idea that UFC 78 occurred this past weekend. And, AS PREDICTED by myself, the God of War, it was BORING, SLOW, and MEANINGLESS. The two main fights would not have been AIRED at the upcoming UFC 79, more on THAT later. These are the things I learned from UFC 78:
1) Bisping is a BITCH and a TERRIBLE FIGHTER who DOES NOT BELONG in the Light Heavyweight division. However, dropping down to the 185 lb division will not help him EITHER. Anderson Silva is akin to Bruce Lee, Tony Jaa, and a TORNADO. When he dies I shall raise him on high and make him a GOD.
2) Rashad Evans IS NOT much better. Neither are in the top 5 light heavyweights in the world or the UFC. The UFC continues to say that fighters from their reality show are good. How about you let them FIGHT PEOPLE WHO WEREN'T ON THE SHOW?! Rashad Evans LOST to Tito Ortiz were it not for a FENCE GRABBING incident. Forrest Griffin is the true ULTIMATE FIGHTER, why not give HIM a title shot? He beat SHOGUN you pitiful mortal, Dana White. At least give him a NUMBER ONE CONTENDER match with the winner of LIDDELL v. Wanderlei SILVA.
3) Houston Alexander needs GROUND SKILLS. The man is a BEAST on his feet but a TURTLE on it's BACK... on his back. Might I suggest fighting GRIZZLY BEARS and killing THREE A DAY while only LAYING ON YOUR BACK with a FIVE HUNDRED pound KOALA BEAR on your chest?
Dan Henderson will drop to 185 to fight Anderson Silva: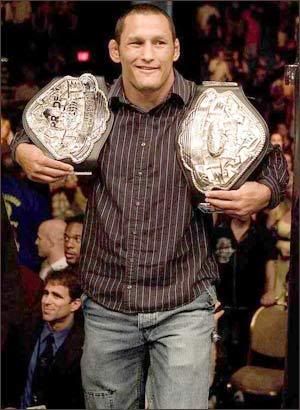 Dan Henderson holding the belts he used
to possess before Rampage RAPED and
PILLAGED them from him.
Dan Henderson has announced that, instead of attempting to fight to earn a REMATCH against man-God Quinton "Rampage" Jackson, he will LOSE WEIGHT and drop to 185 so he may face (in UNHOLY BATTLE) Anderson Silva. You may recall that I previously mentioned Anderson Silva as being Bruce Lee, Tony Jaa, and a TORNADO rolled together. Allow me to add VOLCANO, VELOCIRAPTOR, and MURDER MACHINE to those. This is a good move for fans because there is NOBODY in the middleweight division who could stand TWO MINUTES in the ring with Silva. This is a BAD MOVE for Dan because he is going to GET HIS ASS KICKED.
UFC 79:
The upcoming event, UFC 79, should make up for the BOREDOM that UFC 78 bestowed upon me. Honestly, 78 was SO BORING that I personally killed FOUR HUNDRED MEN and IMPREGNATED THEIR WIVES with TWINS just to relieve the TENSION. Here are my PICKS for the three big matches at 79:
Lyoto Machida vs. Rameau Sokudjou
This was a recently announced match but also a GOOD match. Sokudjou will win, but I have NO WAY to back up that claim, for I have NEVER SEEN HIM FIGHT. However, I have seen Machida fight, and he is NOT GREAT.
Verdict: Sokudjou by TKO in 2nd round
Chuck "The Iceman" Liddell vs. Wanderlei "Axe Murderer" Silva
My blood BOILS in anticipation of this LONG AWAITED battle. This match has been discussed for YEARS but has never materialized UNTIL NOW. Liddell has been beaten TWICE IN A ROW now, however it is likely he was SLEEPING on Keith Jardine. Liddell has wanted this fight for YEARS and he will capitalize on his chance here. Now how about a Liddell vs Griffin match to see who gets Rampage NEXT?
Verdict: Liddell by TKO in 3rd round



Matt Serra vs. Matt Hughes (For the Welterweight Title)
These two men HATE each-other like the FRENCH hate VICTORY. Even the weigh in for this match might end in DEATH. When the fighting starts I do not expect this match to go beyond the second round, no matter who wins, for their BLOOD HATRED should deal a FINISHING BLOW long before they get to round 5. My pick is MATT SERRA because I, too, hate Matt Hughes.
Verdict: Serra by KO in 2nd Round
-TO REVIEW:
+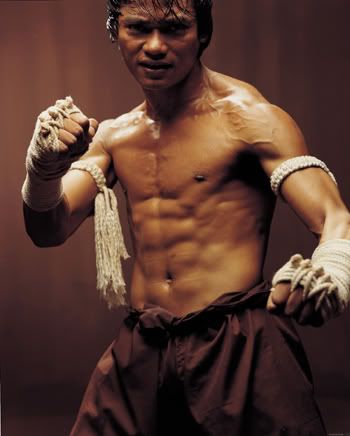 +
+
=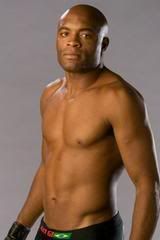 and these are my top ten light heavyweights:
1) Quinton "Rampage" Jackson (The Champion)
2) Forrest Griffin (If you DEFEAT number 2 then you BECOME number 2)
3) Mauricio "Shogun" Rua
4) Chuck "The Iceman" Liddell
5) Wanderlei Silva
6) Keith Jardine (Liddell is still better. Whereas Shogun lost to Griffin because Griffin was better, Jardine beat Liddell and Griffin because they were sleeping on him.)
7) Rameau Sokudjou
8) Rashad Evans
9) Nogeira
10) Houston Alexander (He will acquire a ground game)