Rashard Mendenhall, RB, University of Illinois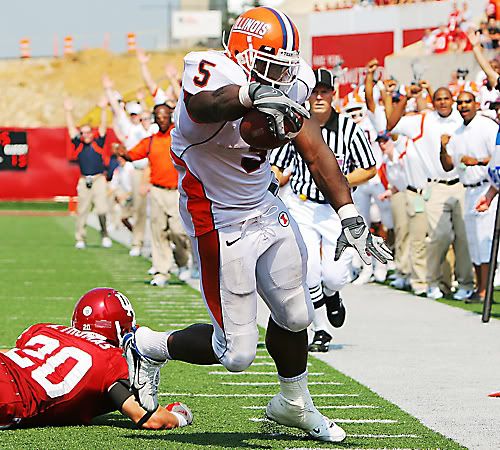 For the first possible pick for the Bears at spot #14 we have this talented RB from Illinois, whom I still hate. Sure, the Bears need a quarterback to compete with the failure that is Rex Grossman and the mediocrity of Kyle Orton, but getting a quarterback in the first round this year is just the same as getting one in the second or third, and settling for the 3rd or even 4th best o-lineman here would just be plain stupidity.
Rashard Mendenhall is 1)Fast, 2)Strong, 3)Elusive, 4)A Human Truck-Stick, 5)A reliable ball-handler, 6)A Mac. Besides McFadden this guy is the best RB in the draft, and the Bears need a running game FAR MORE than they need a passing game. This is my suggested first round pick.