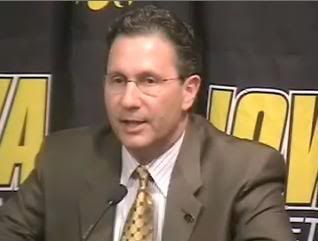 Todd Lickliter started off his Iowa basketball coaching career with a win, and the first in a long, long, long string of cliches:
"Nine assists and zero turnovers -- that's super," Lickliter said. "He did that by having an understanding of the game and playing within himself."
holy shit for several reasons:
1) The season started?!?! Shit! I need to get ma tickets!
2) Wow this guy is white.
3) Super? He didn't really say that. Please tell me he didn't say that.
4) I cannot emphasize just how cliche this comment is. Soak it in. Bask in it.
5) Our starting PG is a freshman. And not a 5 star freshman, a 3 star freshman. Lord God this winter is going to be cold.
6) Iowa scored 58 points against Idaho State. Thats some Big Ten basketball right there. In other conferences they call it "Sucking".