(Before this starts, a little background. 1) I am a hardcore gamer. I know everything that happens and has happened in the video game industry. How I manage this and still have a prevalent social life is one of life's great mysteries. 2) I have a vigorous passion for fighting, especially the UFC. My first full UFC event was Liddell vs. Sobral, and since then I've watched every one I can, plus the Ultimate Fighter. 3) These two things combined are horrifying, as is about to be demonstrated in a new segment I like to call UFC time with Kratos, God of War.)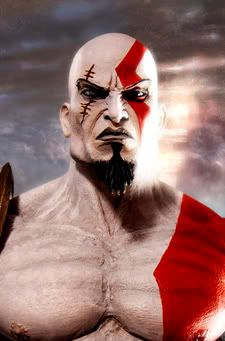 Bow, mortal, for I am he who slayed Ares. I once ripped off Medusa's head, turned three other gorgons to stone, broke them into pieces, then shit down their throats. I am that badass. As such I only take interest in the most badass of sports, MMA. Although your pitiful mortal fighting styles PALE in comparison to the DESTRUCTION, MAYHEM, CHAOS, AND DISASTER that my Blades of Chaos can bring, it still amuses me to watch you filthy creatures battle as you do.

UFC 79: Nemesis

Indeed, the time has come. Fear for your livelihoods, humans, for the UFC has finally announced the long-awaited match that would pit Chuck "The Iceman" Liddell vs. Wanderlei Silva. The match was talked about for some time, but was put on hold several times (Probably because the puny Liddell creature LOST his title then LOST to Keith Jardine). However, putting that aside, Liddell is still a world class fighter. This God believes he was merely caught napping against Jardine and that he will show up to fight this battle, a match he has desperately wanted to fight for years. The most impressive part of all this MADNESS is that this fight
isn't even the main event
. That would be Matt Serra vs. Matt Hughes for the Welterweight title. I shall be cheering for Matt Serra because he is a WARRIOR, whereas Matt Hughes is a bible-pushing BITCH. My blades would take but ONE MIGHTY SWING to SPLIT his HEAD IN TWO. Serra would take two strokes of my blades at least.
I LAUGH At your pitiful fight card
The announcement of those two fantastic matches at UFC 79 could not have come at a better time, considering that UFC 78's fight card does not even WHET MY APPETITE for destruction, pain, and calamity. The main event is not only a NON-title fight, but a NON-top contender match. My MIGHTY PENIS could slay both Micheal Bisping AND Rashad Evans in one FELL BLOW. The best fighter at the event is fighting Thiago Silva in the number two match, Houston "The Assassin" Alexander. I have seen this man work, and it is NEARLY as GLORIOUS and titilating as killing ONE HUNDRED MEN whilst FEASTING on their immortal SOULS. His last two matches were both stopped early in the first round due to Houston BEATING HIS OPPONENT WITHIN AN INCH OF HIS PUNY LIFE. Being as one of these opponents was Keith Jardine, the man who recently defeated Chuck Liddell, I do believe the main event should maybe have been Forrest Griffin vs. Houston Alexander? Forrest Griffin would be my HERO were I not enough hero for FIVE HUNDRED HEROES already. Coming off of a SHOCKING/AMAZING/STUNNING/BEAUTIFUL upset victory over the then-ranked #1 Light Heavyweight in the world
(ed. by various sources)
, Mauricio "Shogun" Rua, it would only be natural for him to receive a number one contender match. Dana White, I suggest you COMPLY or you shall FEEL MY BLADES.
Brock Lesnar cometh
Yes, mortal, you heard me correctly:
This creature has risen again, this time into the ranks of the Ultimate Fighting Championship. He was greeted with much SPECULATION and HATRED, but soon gained the respect of his training partners (The Quad Cities' own former UFC Champion, Pat Militich and lightweight champion Sean Sherk) by working HARDER than anyone they've ever seen and probably by CRUSHING their FRAGILE HUMAN BODIES. Brock will fight in the Heavyweight division. His first fight has YET TO BE announced, but Dana White has already said it will MOST DEFINITELY NOT be against Noguiera, Tim Sylvia, or any other Heavyweight contender. Quoth the raven:
"I respect that," said White of Lesnar's desire to fight anyone. "What I've seen from Brock Lesnar and from what I know of him so far from the conversations we've had is that he's a real fighter. He's one of those guys who wants to come in and fight the best, but there's a progression that you need to have. You don't just throw them to the wolves. Now, Brock Lesnar is a monster. He's huge, he's powerful, he's incredibly gifted, he's a great wrestler, but you have to take a guy through the steps the right way. He's got to face similar competition on his way up even though his name precedes him. Now he's gonna fight tough competition. Is he gonna walk right in the door and take on (Antonio Rodrigo) Nogueira? No, but he's gonna work his way up like Brandon Vera and any of these other guys who fight in the UFC did. The difference is, once you get in the UFC, nobody's a joke. All these guys in all these other organizations are either guys that we've cut because they couldn't hack it in the UFC or guys we didn't want to sign."
- Dana White, UFC President
Regarding Brock Lesnar's proclamation that he could
fight anyone on the UFC heavyweight roster.

FEAR, mortal, for Lesnar has come. And he comes FOR YOU.