C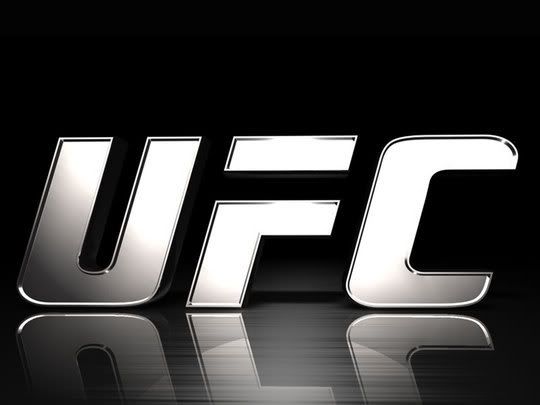 Ahhhhh, back again, and with much love and commentary on the UFC and the MMA world in general, my children. I could give you an essay on why MMA (Mixed Martial Arts) is a legitimate sport that belongs on network TV (something that, among others, Blog-hater Tony Kornheiser has questioned) but instead I will simply say this: if you like boxing and for some reason you have rationalized the idea that boxing is higher on the intellectual spectrum than the UFC: you are a moron. Tony's explanation was that "You can win a boxing match by being a better boxer, and in MMA you can't do that, you just have to beat the hell out of the other guy."
...
...
...
Okay Tony. So somehow you can prove you are a better boxer without throwing a punch? Or maybe you're saying that boxers can fight
with their minds
. Honestly, it sounds like Kornheiser isn't even aware that there are judges decisions in MMA. Or that the participants fight for substantially less time than boxers. Or that there have been more boxing related deaths than MMA related deaths. Or that just walking into the octagon with a strategy of "punch and kick opponent" will get you beaten like a naughty puppet. Honestly, Tony, watch a fucking match before you open your mouth.
Disregarding logic and making money for it since 1948
ON TO MMA NEWS:
Elite XC on CBS was awful.
The first two fights looked like 12 year old school fights, the women's match looked like rock 'em sock 'em robots (They knew three moves each: Carano used a straight kick, a left hook, and a right jab, and her opponent used a high kick and two jabs), the best fighter (maybe the ONLY good fighter in Elite XC) Robbie Lawler seemed so frightened by the crowd and the TV viewers that he refused to take the fight to the ground and managed to almost get beaten before the first (and not last)
very suspicious
stoppage gave him the win, and Kimbo Slice looked absolutely heinous before the referee (with a fat stack of $100 bills in his pocket) stopped the fight. I hope the people who watched heard the announcers (and the rest of the media) saying how the UFC had much better fighters and fights, because this event left such a bad taste in my mouth I vomited like I was possessed by Satan.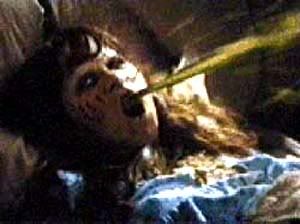 That corn beef did not sit well with the Lord of Darkness
Mat
t Hughes is old
and it showed yesterday at UFC 85. He also looked bored, like he didn't really have any interest in fighting Thiago, mainly because the only person he wants to beat up on the planet right now is Matt Serra. Not to take anything away from Thiago Alves, but Matt Hughes looked just like Chuck Liddell did versus Keith Jardine: he just didn't care.
Rumors are fun, and
there is a big, juicy, prime rib rumor floating around on the internet, courtesy of Dana White, the outspoken(almost to a fault) president of the UFC. ZE QUOTE!:
"There's something no one else has heard. You have no idea some of the stuff that we have planned. I'm going to make an announcement next week that is going to blow people's minds. That deal is done, but my employees don't even know yet. I'm renting out a place next Thursday and I'm going to tell them. Then we'll make the announcement later that day. It's an indicator of where this business is going over the next five years."
if that doesn't generate excitement in a very Dana-like way then perhaps you need to lay off the weed, Snoop. In other places in the rumor he already said that Chuck Liddell (#3 Light Heavyweight in the world-MMAweekly.com) will fight Mauricio "Shogun" Rua (#2 Light Heavyweight in the world-MMAweekly.com) in Atlanta at UFC 88, and that multiple big announcements will be made. The most agreed upon rumors out there (however much you want to trust them) are:
1-- The UFC has signed a deal
to air their events on either ABC/ESPN/Cthulucorp OR Fox. This would make sense if the thing he said about the announcement being -"
an indicator of where this business is going over the next five years."-
is true.
2-- Anderson "The Spider" Silva is moving to the Light Heavyweight division.
This has been almost confirmed, and considering the lack of talent in the middleweight division right now it wouldn't be any surprise. Of course, when you're the best fighter on the planet (and the fusion of Bruce Lee, Tony Jaa, a velociraptor, and a tornado) it's always gonna be hard to find good competition.
3-- Affliction's new promotion
and with it, the #1 Heavyweight in the world and current holder of a 23 match win streak, Fedor "The Last Emperor" Emelianenko, has signed a deal to co-promote and share fighters with the UFC (which more than likely means Affliction will be consumed by the UFC and will become a major advertising partner. Think every fighter gets a shirt.) and that the UFC is
bringing back weight class-tournaments
. Personally, I've been clamoring for tournaments to make a comeback for years and I would love to see this happen. Also, as an owner of 13 Affliction shirts, I'd love to see 'em connected to the UFC once again.
4-- Nike/Adidas
has signed on to make official UFC gear, including designing "jerseys" for UFC fighters. This is the least founded and mostfar-stretched rumor, especially if the above rumor is true, but it is a possibility.
As to the validity
of these rumors, you can take 'em or leave 'em. If any of these things happen,I'll be happy. If more than two of these things happen I'll need a clean change of underwear. Stay tuned and check out UFC.com on June 12th to see what happens.
PREDICTIONS for what's next in the UFC:
- The winner of the UFC 86 fight between Quinton "Rampage" Jackson and Forrest Griffin will fight the winner of a UFC 88 matchup between Chuck Liddell and Mauricio Rua. Too many good storylines here for it to be otherwise.
-Anderson Silva's first Light Heavyweight fight will be against either Wanderlei Silva or Lyoto Machida and if he wins that his next fight will be a title shot.
-Georges St. Pierre will win his next three matches over Jon Fitch, Josh Koscheck, and B.J. Penn in order.
-Brock Lesnar will show his determination by shocking a cocky Heath Herring at UFC 87.
Expect more
from Myself and Red for a good long time. No school+hard labor=unwinding by ranting on the interwebs.