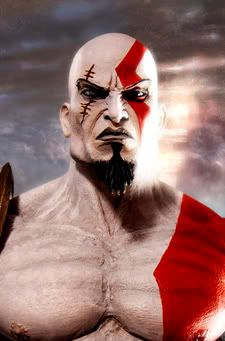 Praise be to me, Kratos, GOD OF WAR, mortal, for I have chosen to, in my INFINITE KINDNESS, relate to you my opinions on the GOD-SPORT that is ULTIMATE FIGHTING.
UFC 79
went EXACTLY as I predicted, with
Liddell beating the UNHOLY HELL out of Wanderlei "THE PUNCHING BAG" Silva
. I was NOT surprised by Liddell's total DOMINATION of that Pride-fighting BITCH, but I WAS impressed by Silva's refusal to FALL. From my estimation he should have died at least THREE times in that ring, but he refused to even drop to ONE KNEE. With that kind of iron chin you would think the little mortal BASTARD could have mounted an OFFENSE, but Liddell quickly squashed any hopes of that. Whoever Liddell's next opponent is (perhaps Lyoto Machida, more on him LATER) had best HIDE under a LARGE ROCK because that man is ON A MISSION to fight RAMPAGE again.
The Undercard
(You see how I made Liddell vs. Silva the main event?) also went as I predicted aside from the Sokudjou (more like SokuBITCH) match.
St. Pierre absolutely ANNIHILATED Matt "BibleBITCH" Hughes
, and even showed incredible CLASS by refusing the title until he pulverized MATT SERRA at UFC 83. I FEAR for Matt Serra like no other mortal being. Georges also showed off an IMMACULATE tan, not only defeating Hughes in the ring, but also in LIFE.
Lyoto Machida did what he always does and BORED Sokudjou to death
, retaining his undefeated record, and perhaps earning a shot at a top 5 Light Heavyweight in the NEAR FUTURE (Liddell vs. Machida for a shot at Rampage/Griffin?).
UFC 80
held almost NO INTEREST to me, with only ONE match being of any IMPORTANCE, and
BJ Penn submitted Joe "Daddy" Stevenson in the 2nd round
, making BJ Penn, FINALLY, the lightweight champion. Lightweights interest me about as much as do PUPPIES and HUGS and I CARE for them even LESS, so let's talk about-
UFC 81
, which will be held the day before the Super Bowl, has TWO interesting matches, and ONE match THAT DOES NOT MATTER AT ALL. PREDICTIONS!!!:
Tim "The Maine-iac" Sylvia vs. Antonio "Minotauro" Nogueira:
Tim Sylvia has a LONG HISTORY of WINNING and LOSING this title (Won from Ricco Rodriguez, defends against Gan McGee but loses title due to testing positive for 'roids, beat in a match for the vacant title belt by Frank Mir, beat by Andrei Arlovski for the title after Frank Mir crashes his motorcycle (and Frank is just now getting back), beats Andrei Arlovsky to gain title, beats Andrei again, beats Jeff Monson, loses to Randy Couture.) SEE? IT IS LONG. The problem for Sylvia will be the number TWO ranked Heavyweight IN THE WORLD, Minotauro Nogeira. Sylvia fights out of the Quad Cities, Iggins! HOME-TOWN, but that is NOT ENOUGH to give him the nod here:
Minotauro by TKO in the third.


Frank "I Wrecked My Bike" Mir vs. Brock "ARGH!" Lesnar:
This fight is absolutely TEEMING with plot-lines. Frank Mir's title run was cut short by the MERCILESS hands of FATE when he wrecked his motorcycle, and now he has a chance, THREE YEARS LATERISH, to get into position to reclaim it by beating Brock Lesnar. If you don't know who Brock Lesnar is, then DO NOT tell me, for I will KILL YOU for your TOTAL LACK of knowledge. Lesnar was a WWE STAR and tried out for the Minnesota Vikings-ahem-BITCHES before training for an eventual MMA career. His career began with a RIDICULOUSLY FAST knockout of a random ASIAN, and Dana White immediately SIGNED HIM UP. Frank Mir is battle-tested, but Brock is the WILDEST of WILD-CARDS, and, due also to his ABSOLUTELY MASSIVE MUSCLES, I will pick
Brock Lesnar to win in the first by KO.
Jeremy Horn vs. Nate Marquardt:

This does not matter AT ALL. Neither could beat Anderson Silva. EVER.
Marquardt by split decision in the third.
UNTIL NEXT TIME, MORTALS!!