Tim Tebow won the Heisman.
He was obviously the most deserving candidate, so I can't see any controversy stemming from this one. Does the Heisman curse apply to underclassmen? We can't be sure about Leinart just yet, even though he was having a terrible season with the Cardinals before he was hurt. But he has been very underwhelming. However, it is at times like these that I think people should remember that only recently has the NFL decided that QBs have to be great NOW, as in immediately after they are drafted. Let's let Aaron Rodgers be a lesson to us.
Watch a hockey game.
It is very difficult if not impossible to explain how enjoyable watching the NHL is without just watching a damn game. The things they do on the ice are nothing short of spectacular. And I'm saying that after the Blackhawks
lost
. Among the many amazing things they do, pronouncing Byfuglien like
Bufflin
is by far the most impressive.
Randy Moss horrifies me.
Not only does his elbow have more talent in it than the last 24 Chicago Bear quarterbacks, he also apparently owns a
cloak of invisibility
. There is no other possible explanation for how wide open he was. Also, note to Steelers: they're throwin to WELKER. I can only imagine the stupidity preparing to flow from the mouth of Bill Simmons.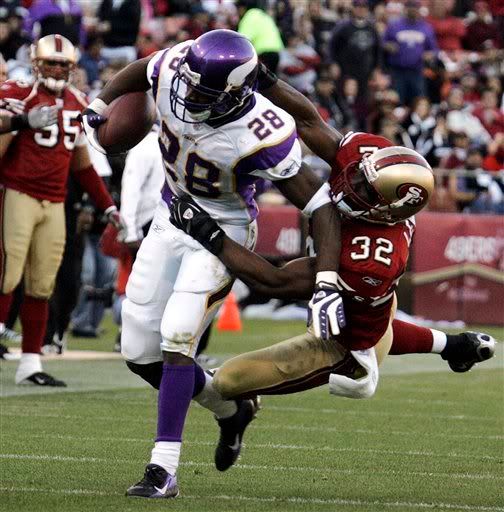 Adrian Peterson is human?!
I am Jack's surprised kidneys. Also surprising, tWWL's link to AD's page is linked to the Chicago Bear's Adrian Peterson bio. Are they really that hard to tell apart?
This fight was amazing:

Huerta vs. Guida. Youtube it, download it, beat down Dana White's door to watch it, it doesn't matter. This fight was the best fight I've seen since Griffin vs. Bonnar, no kidding. Also, is a tattoo a prerequisite to fight in the UFC?

*Now with more guanine!