Memo to all Chicago sports fans:
Please sit down. This information will be shocking. Hockey still exists.
Still sitting? Back in your chair yet? Good. Now for the real shocker...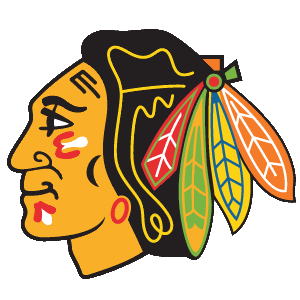 The Blackhawks are
good
. Like,
really good
. Last night Dustin Byfuglien scored 3 goals (they call that a hat trick, for those of you who forgot hockey existed)
in the first fuckin period
. And that was AFTER the Blackhawks were up 2-0. Do the quick math and that has the Blackhawks up 5-0 in the first. Damn. But this was no one game wonder, Chitown. Check the standings:
-Yes, that's right, the Blackhawks are second, not just in their division, but
in their league
.
-Now for another shock: I like hockey. It's the single hardest sport in the world to play and it's very fun to watch. The only time it isn't fun to watch is (or was) when you were a Blackhawk's fan, because they were equivalent to the Quad Cities' own UHL franchise: The Quad City Mallards:
-However, now they have a strong core of young talent, and they aren't taking four years to start to win like the Bulls. For your convenience, the Blackhawk's team leaders and stats for their best players:
RW, Patrick Kane:
#1 pick overall in last year's draft
7 goals, 20 assists: 27 points
Team Leader in Assists and Points
RW, Patrick Sharp:
3rd NHL season, acquired from Philadelphia 3 years ago
12 goals, 8 assists: 20 points
Team leader in Goals
C, Jonathan Toews:
#3 pick overall in last year's draft
10 goals, 10 assists: 20 points
Team leader in awesomeness. Seriously, watch him skate, then watch Crosby skate. I ain't sayin, just sayin.
C, Robert Lang
:
14th NHL season
6 goals, 14 assists: 20 points
The wily veteran among incredibly talented youngsters
G, Nikolai "The Bhulin Wall" Khabibulin:
11th NHL season
Saved Goal pct: 90.6%, Goals against average: 2.7, record: 10-6
And there are several good defensemen, counting Dustin Byfuglien who scored the first period hat trick.
-In short, Chicago, it's hockey time again, and I couldn't be happier. This is the sport that God has sent to us so that we might find solace after the NFL season. Hail the baby Blackhawks! Hail hockey!
That's Toews (Pronounced Tayvz). He is that good.


And that's a game winner in a shootout by Kane